#NOSKATRAPCHELLENGE – Rap competition of the North.
Live Room ignited the Labo stage on the 12th of February, hosting the finale of the Rap competition #Noskatrapchallenge, which gathered over 100 Rap fanatics in the eliminations phase, bringing together the North's Rap scene under the theme of "Gender equality" and "Fighting violence against women".
Rap challenge for women's rights in Morocco
The first stage of the competition was digital, each rapper who wished to participate was to upload a freestyle of 1 minute under the competition theme. A total of 8 Finalists: Captain Vintag, Nezar, Ayman Achhab, Yassin Sbai, Merry, Atta, Romyo, and I.sam were selected after a rigorous ranking process that involved a committee of well versed judges that consisted of Liveroom's Music unit, as well as "L3arbé", and "Bad Flow" who are two Rap icons that have done a lot for the rap movement in the North. The contestant Yassin Sbai however wasn't able to make it to the finale, and was spontaneously replaced during the event by the charming Kaoutar Amerniss who was among the guests, a real badass who entered the competition with a "bang!", freestyling her way into the crowd's heart.
Rap battle of the North of Morocco
The finale consisted of 3 rounds: During the first round the finalists were already given a beat prior to the event, to which they had to rap for 1 minute. 4 Contestants: Nezar, Atta, I.sam, and Merry made it to the second round, where they had to feel the flow and freestyle to a beat they've never heard before. Only 2 participants : Merry and Atta made it to the final 1 vs. 1 round, which was the climax and ultimate highlight of the event.
The heated dissing and clashing between the two finalists truly captured the soul of rap, making the entire crowd feel the flow in the heat of the moment, reminding us of one of the most epic rap battle of history from the movie "8 mile".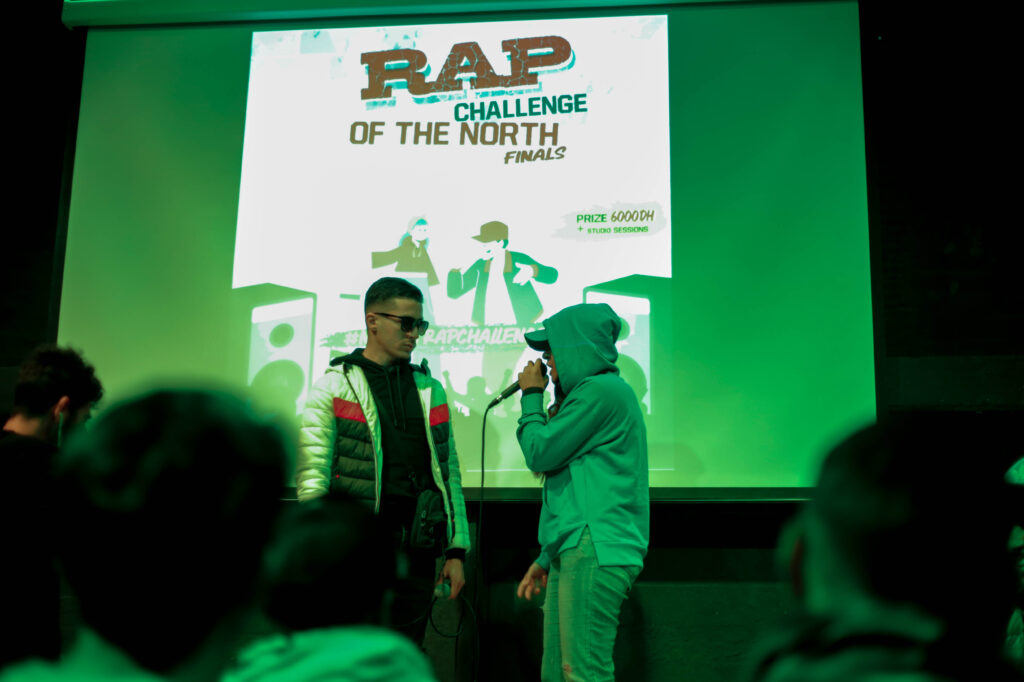 The winner of the final round was none other than the Flow Queen Meryem Amor aka. "Merry", who blew everyone's mind and lit the stage on fire, exposing the true spirit of the Competition, proving to the world that Urban Culture was never gender specific, and that women are creative, capable, strong, and worthy of respect and acknowledgement.
Big thanks to our engaged public who supported digitally and physically the event. Big UP to the Live Room team who worked hard to achieve the fixed goals. And special thanks to our partners and sponsors for this action: Union de l'Action Féministe de Tanger and AIDA association.
See you soon for brand new challenge!