Launching of the Live Room Gaming Club in Tangier:
When it comes to Videos Games, a wide variety of genres exist to suit each and everyone's taste : be it role-playing games, shooter games, fighting games, rhythm games, open world games, strategy games, sports games, action games, or virtual reality games. The gaming world has evolved at an incredible rate. From 2-dimensional gaming, to 3-dimensional gaming, to downright Virtual Reality, it truly has been pushing the boundaries of space, and time as well, by making lengthy hours of gaming fly by in the blink of an eye.
It is in the perspective of creating a community of Video Games fanatics like himself, that Mehdi Nabil, our VR & Audiovisual Lab Manager, launched Live Room's gaming club. The goal of the club is to unite the gaming veterans, and to also introduce the magic of video games to a wider audience, creating a fun, and safe exchange space.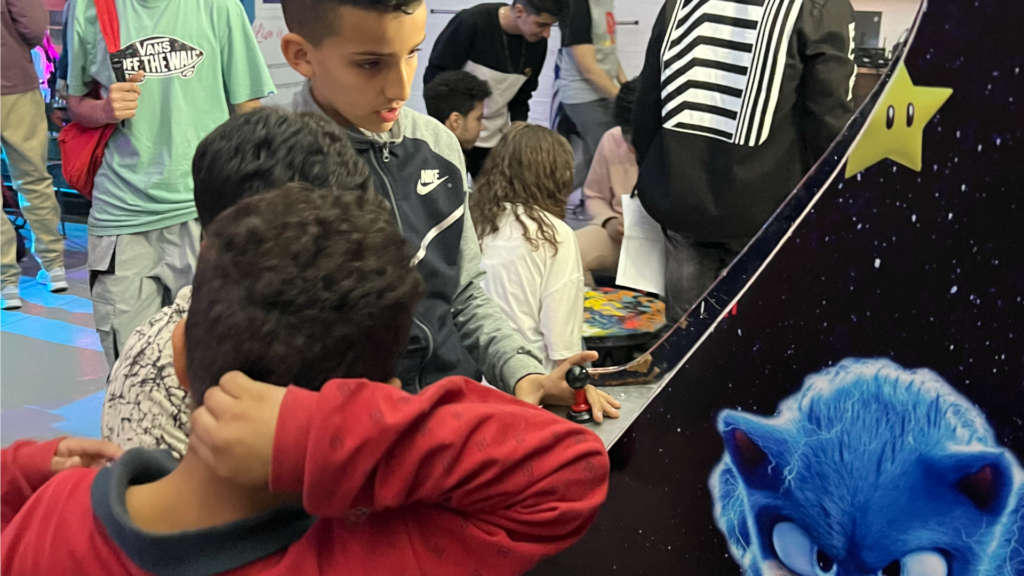 Consoles, Arcade machine, VR, Board games: A game for Everybody taste!
Live Room organized the very first event of the club on the 16th of April for gamers all over the city to gather on a Ramadan afternoon, and make the long hours of fasting effortlessly pass by. The event lasted 3 hours and had everyone excited for playing their favorite games and trying new ones, marking a huge success of the club's first activity.
The event featured consoles, arcade, virtual reality, and board games. When it comes to consoles, the Nintendo Wii and the Sony Playstation 4 were the guests of honor, with games like Mario Kart and Super Smash Bros on the Wii ; FIFA, Tekken, and Mortal Kombat on the Playstation 4 ; King of Fighters on the Arcade machine ; And last but not least, the star of the show, the Oculus Quest 2 which is the newest Virtual Reality technology that blew everyone's mind, with games like Beat Saber and Pistol Whig.
Board games on the other hand had quite the wide audience, with games like UNO, Monopoly, parchis, Chess, and Checkers. Chess specifically caught people's attention, having them gathering up to either practice or learn the how to play. Who knows? Maybe the gaming club will inspire us to open an exclusive Chess club in the future!
New games, consoles, events, tournaments, and much more are on their way in the foreseeable future. Finally, thanks to Live Room for helping us grow this beautiful artistic community, raising awareness on how extraordinary and promising the world of Video Games is.
To subscribe in the Club,please fill this form: bit.ly/3OsHcqw
To Watch the event's preview: CLICK HERE
By Hajar Allam, Gaming Club general coordinator.